< Go Back
What is it?
The arrival of the fourth-generation Ssangyong Korando finally confirms that the South Korean manufacturer is fully capable of producing a good-looking car.
Writing such a sentence would have been unimaginable not so long ago. Laughable, even. But following the introduction of the Tivoli small SUV in 2015, the brand's designers have been going from strength to strength with every new model that's brought to market.
And while updated versions of the Musso pick-up truck and Rexton 4x4 both provided further evidence of this shift towards building gradually better-looking cars, to our eyes it's this new Korando that proves they've now most definitely found their mojo. I think it's fair to say the dark days of the Rodius are now very much behind us. We can only hope it stays that way.
Anyway, sharper looks are only one aspect of what's new about this revitalised version of Ssangyong's middle-weight SUV. There are also two new engines, a redesigned interior architecture, an updated infotainment suite and digital cockpit (in top-spec models), improved noise, vibration and harshness suppression measures and a sweep of new safety technologies that should, so the company says, guarantee a full five-star Euro NCAP rating.
All of this is obviously a good way of bringing what is a relatively fringe brand in the UK that much closer to the mainstream. But as Ssangyong will quite happily tell you, its vehicles have historically appealed to quite a niche audience: the esteemed members of the "caravanning and towing fraternities", to use its own words. It hopes they'll like this one even more.
Four-wheel drive is on the menu, then. And in the case of our range-topping, £31,995 Ultimate-specification test car, so too is a four-cylinder 1.6-litre diesel engine. It produces 134bhp and 239lb ft, which might not sound like much, but paired with a six-speed automatic transmission, it's enough grunt to allow the Korando to tow up to two tonnes.
A 161bhp 1.5-litre petrol engine is set to join the range later this year, too. But as it develops less torque and is only available with front-wheel drive, it's fair to assume that it won't quite be as capable in the towing department as its oil-burning rangemate.
What's it like?
The new Korando's interior is really rather nice. Surprisingly so, even. It's not exactly on the same level as, say, a well-specced Volkswagen Tiguan for material richness and tactile appeal, but it was never going to be. The Korando is a fair few thousand pounds cheaper, after all. Next to rivals from Ssangyong's home country, though, it's very competitive indeed.
For a sum of money roughly similar to what you'd pay for this particular Korando, you could also have top-spec versions of the Kia Sportage and Hyundai Tucson - both with automatic 'boxes and diesel engines developing 134bhp and 236lb ft. And considering the fact that all three SUVs adopt basically the same approach to interior design - think plenty of gloss black and silver plastic, leather upholstery and seriously generous levels of standard kit - it's unlikely you'd emerge from the Korando feeling hard done by. Sure, some of the Ssangyong's minor controls may feel a touch cheap and plasticky, but you could level the same criticism at the other two just as easily. There's also loads of space in the second row, and the 3D-effect ambient lighting is an attractive touch.
Unsurprisingly, the Korando edges ahead when it comes to towing. Well, it does at this price point (between £31,700 and £32,200), at least. While the Kia and Hyundai have comparable levels of performance, they can haul up to just 1600kg. Admittedly, the Sportage can tow more when equipped with a more powerful engine and four-wheel drive (up to 2200kg), but you have to pay more than £35,000 for the privilege.
So, it would seem the Korando has carved out a very specific niche for itself. That's just as well, really, because when it comes to the task of driving, it's not quite on the same level as the other two for ride comfort or refinement.
It's quite firmly sprung for starters, so over lumpier stretches of road, its ride feels a mite too wooden and lacking in complexity to be called truly comfortable. It also clatters quite harshly and noisily over ruts and scarred sections of asphalt at times, with the effect being that it rarely feels properly settled or composed on rural A-roads and B-roads.
Still, that firmer ride translates to tighter body control through bends; it feels as though it has a suitably low centre of gravity. The steering, while unhurried at 2.75 turns between locks, is nicely weighted and reasonably communicative, too. There's decent grip, although that's likely down to the fact that you'll rarely be travelling at speeds high enough to exceed the limits. Manage it, however, and you'll find that it's biased towards understeer, which arrives in a gradual, readable fashion that's easily controllable.
As for the diesel engine, it lends the Korando a turn of pace that feels every bit as unhurried as its 12.0sec 0-62mph time suggests it might. It's fairly noisy under acceleration, too, although it's demure enough once you're settled into a cruise.
Should I buy one?
It may not be the most dynamically rewarding or refined SUV out there, but there's undoubtedly a relatively capable, affordable tow car in the new Korando Ultimate. With standard features such as heated and ventilated seats, sat-nav, Apple CarPlay and Android Auto, it's a well-equipped one, too.
Admittedly, a Volkswagen Tiguan with a 148bhp 2.0-litre diesel engine, four-wheel-drive and a seven-speed dual-clutch automatic 'box will tow up to 2500kg and cost less at £31,120. It'll offer greater refinement, a more comfortable ride and a bit more in the way of brand cache, too. But for that amount of money, it'll be an entry-level model, devoid of the high level of standard kit you'd get in the similarly priced Ssangyong. And for those members of the caravanning and towing fraternities at which the Korando is aimed, that could just be enough to swing a decision in its favour.
Ssangyong Korando 1.6 Diesel 4WD Ultimate specification
Where Oxfordshire, UK Price £31,995 On sale Now Engine 4 cyls, turbocharged, diesel Power 134bhp Torque 239lb ft Gearbox 6-spd automatic Kerb weight tbc Top speedtbc 0-62mph 12.0sec Fuel economy 48.7mpg CO2 tbc Rivals Volkswagen Tiguan, Kia Sportage, Hyundai Tucson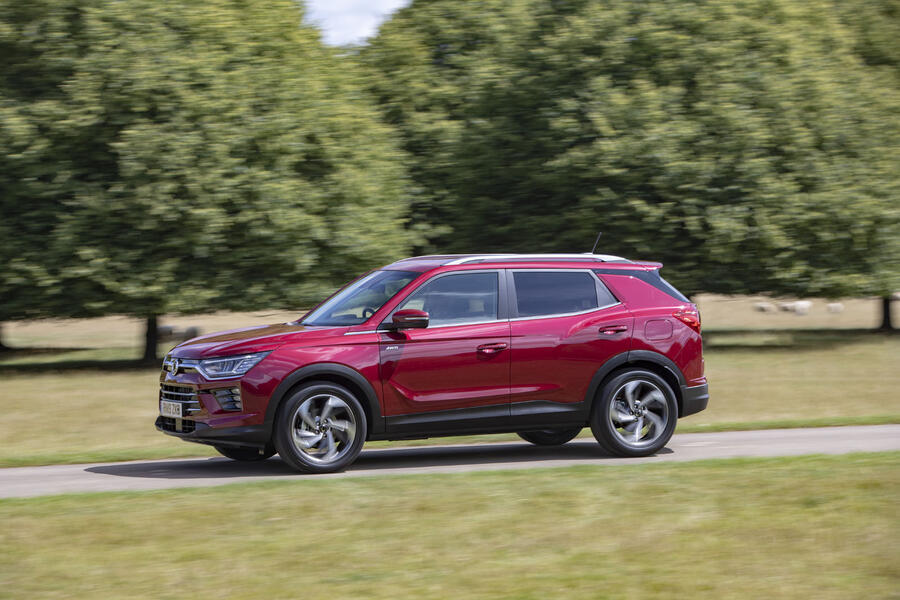 Related Press Releases